<
Isaiah N. Brydie, Esq.
A Legal Path to Lucrative Hemp Production in Oklahoma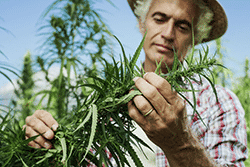 Oklahoma has created major business opportunities not only for businesses related to medical cannabis but has also opened the door for the agriculture experts of Oklahoma to join the greenrush with industrial hemp production. There is a huge opportunity for farmers and businesses in related fields to cash in with crops that have never before been allowed in Oklahoma.
Oklahoma and federal statutes and regulations have finally aligned to allow Oklahoma entrepreneurs to shine nationally and globally.
Your Risks in the Coming Oklahoma Hemp Boom
Oklahoma's next boom will be greener as the stage is set for Oklahoma to become a global powerhouse in hemp production. Wise business owners can prosper but must be smart about proceeding with good counsel from a solid Oklahoma hemp law attorney to avoid a minefield of laws and regulations that could blow up a business in its infancy. Contact OK Cannabis Law Office today for a free consult to find out how an Oklahoma hemp industry lawyer can help you avoid the legal landmines to become a hemp tycoon: (918) 932-2879.
OK Cannabis Law Office can advise you on:
Licensing high CBD content, legal hemp strains for mass outdoor production
Applications for the Oklahoma Hemp Pilot Program
Federal regulatory compliance for Hemp
And much more.
Free Consult With Hemp Attorney
Your initial consult with a OK Cannabis Law Office Oklahoma hemp attorney is free. Contact the hemp lawyer for a confidential consultation today. Call (918) 932-2879.